✕
Location: Monterrey, Mexico
Project size: 1,615 square feet
Program: Ederlezi is a primary residence on a 16-foot-wide lot in Casco Urbano, a historic area in the Monterrey Metropolitan area. Given the house's location, it needed to conform to strict conservation guidelines regulated by the National Institute of Anthropology and History.
Design Solution: This house is a response to the challenges posed by building in heritage areas of growing cities. In order to contend with the narrow site, circulation is placed at the southern boundary of the lot with a central courtyard that divides the program into two volumes. The first, facing the street, includes an entrance hall, garage, double-height guest room with a mezzanine, and a rooftop terrace. At the rear, the second volume contains the living room, dining room, kitchen, a primary bedroom with landscaped terrace, and an intimate, blue patio that marks the edge of the property.
Combining classic elements from northwestern Mexican architecture with abstract contemporary features that evoke both desert and Mediterranean landscapes, the house is designed to be of its place yet also apart. It embraces open planning and what the architect calls "ethereal" space, while maintaining a sense of privacy throughout. Although the plan is born from a rational sequence of squares, the multi-level section is dynamic.
Structure and Materials: Construction methods were largely traditional, employing concrete and block, columns, load-bearing walls, and lightened slabs. Rather than creating an ostentatious display of luxury, the design prioritizes functionality. To unify the project, a robust pinkish coating was applied inside and out, while bright red beams, railings, and window mullions add a dash of color. On the street-facing facade, a red datum boldly identifies the house.
Additional information
Completion date: April 2022
Site size in acres: 0.0296
Total construction cost: $210,000
Client/Owner: Withheld
1
2
3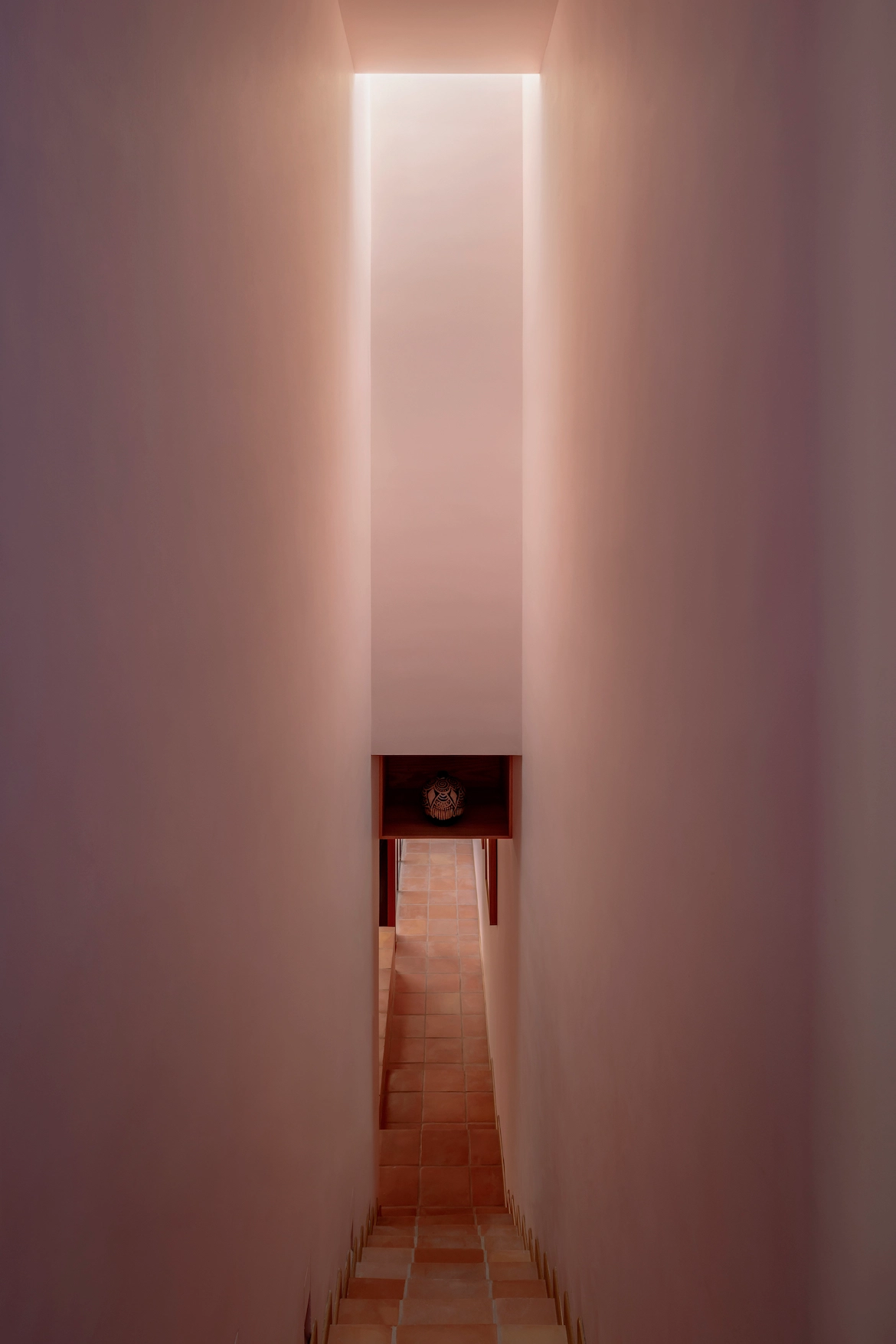 4
5
6
7
8
Photos © Cesar Béjar (1-5, 7), Apertura Arquitectónica (6,8)
12
13
14
15
16
Images courtesy the firm
Credits
Architect:
Práctica Arquitectura
David Martínez Ramos
Monterrey, Nuevo León
www.practicaarquitectura.com

Personnel in the firm who should receive special credit:
Principal: David Martínez Ramos
Project Manager: Alejandro Gutierrez
Engineers:
Structural: GC3

Consultants:
Landscape: Ecotono Urbano

General contractor:
GC3
Photographer:
Cesar Béjar, Apertura Arquitectónica, Dove Dope
Specifications
Exterior Cladding
Masonry: Cemex
Metal/glass curtain wall: FRAGUA
Roofing
Tile/shingles: Debac Acabados Constructivos

Windows
Metal frame: Casa Claro, FRAGUA

Glazing
Glass: Casa Claro
Skylights: Casa Claro

Doors
Entrances: FRAGUA
Metal doors: FRAGUA
Wood doors: LGZ Taller de Arquiectura
Sliding doors: Casa Claro

Interior Finishes
Cabinetwork and custom woodwork: LGZ Taller de Arquitectura
Paints and stains: Mario Sánchez
Wall coverings: Mario Sánchez
Floor and wall tile: Debac Acabados Constructivos

Furnishings
Furniture: Zara Home, Artelier

Lighting
Interior ambient lighting: Tecnolite

Plumbing
Fixtures: P.E.A.D., Poliflex

Energy
Photovoltaic system: GC3, PRISMA