✕
When Mexico City–born Ingrid Moye met Berlin-born Christoph Zeller in the London studio of Herzog & de Meuron, both were already well-traveled cosmopolitans. In fact, their paths had nearly crossed before, in Tokyo, where each had served a brief stint at SANAA. After collaborating on Herzog & de Meuron's landmark Tate Modern project, the two globetrotters decided to set up shop (and house) together, but the question remained: his hometown or hers? "We couldn't decide which," says Zeller, 48. "So, we decided both."
Now a decade into their shared practice, the Zeller & Moye team has turned their unusual bicontinental arrangement to good use, executing projects in Latin America and in Europe while allowing their experience in one to inform their projects in the other—and vice versa. "I've learned to float between the two," says Moye, 39. "It's sort of maddening, but I find a lot of joy in it." In their projects to date, the duo have manifested a flexibility that allows them to move between their disparate worlds with remarkable ease.
In Mexico City, the firm's La Ribera apartment development in the Santa María la Ribera district takes a traditional model of city living and transforms it for a fast-changing neighborhood. "There are so many new galleries and new developments around," says Moye. "We wanted to bring in more diversity in terms of types and uses." From the street, the building presents a subdued facade, but it opens to a remarkably complex courtyard arrangement in which all the individual apartments have their own rooftop terraces while connecting to each other via a shared patio. "It creates a very democratic feeling," says Moye, comparing the design to the communal arrangements common to older Mexican housing typologies.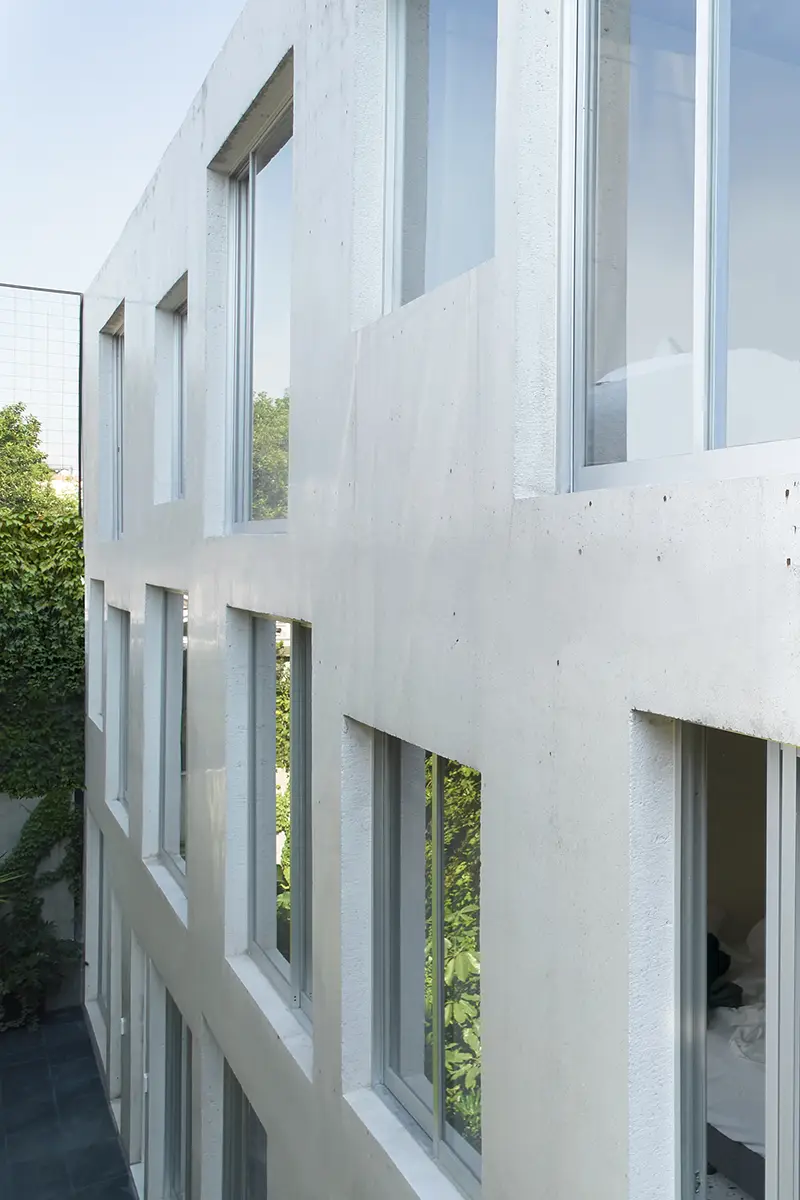 1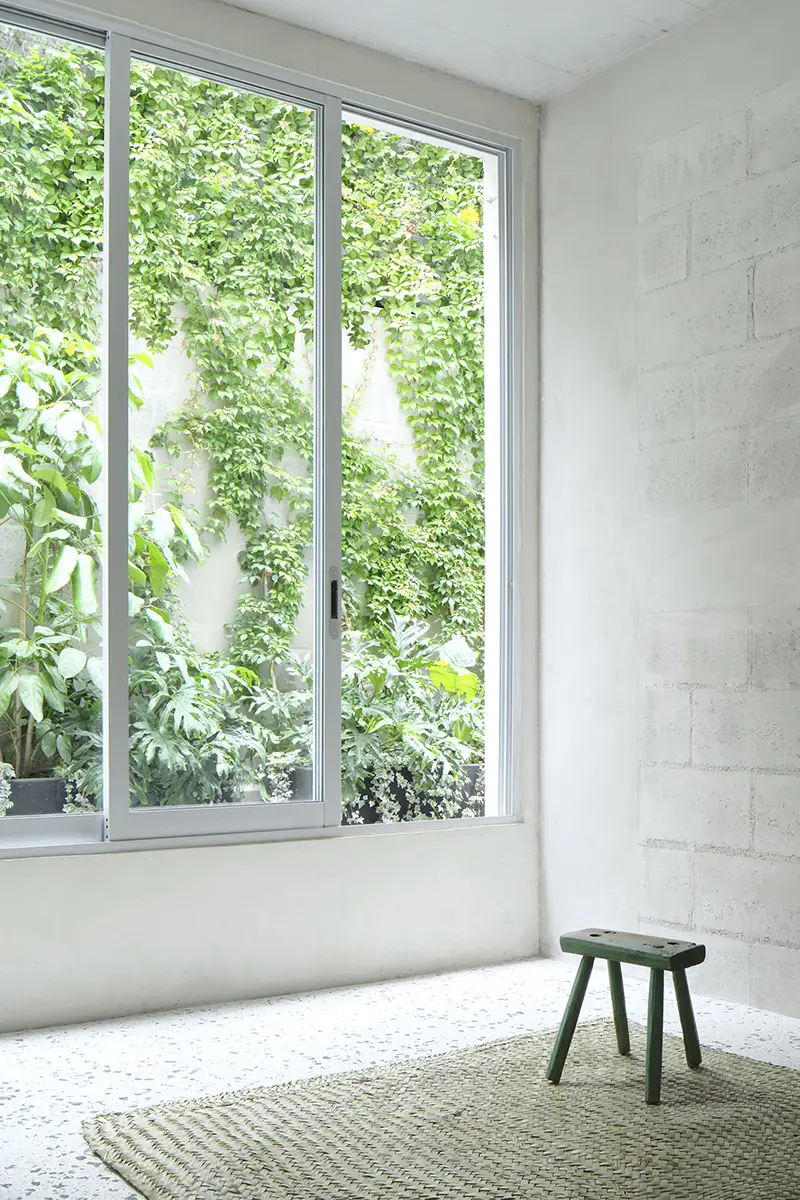 2
La Ribera (1,2, & top of page)
Replacing an informal-housing development, this apartment building (foreground - top of page) is constructed of concrete, hand polished to expose pink and brown stone aggregate. Each of the eight units is organized as a three-story townhouse, with freely placed windows to give each a sense of uniqueness. Photos © Sergio López, click to enlarge.
Contrast that with the firm's Haus Köris, a rural retreat just outside Berlin comprising five square volumes. The project is as rustic as La Ribera is urban, yet it creates a village-like environment all its own. "We took a simple concept, just these individual spaces," says Zeller, "and then we attached them together to form clusters." Built using a modular woodblock system, the structures are assembled on a dynamic pinwheel plan that makes the design feel active despite its somber geometric simplicity.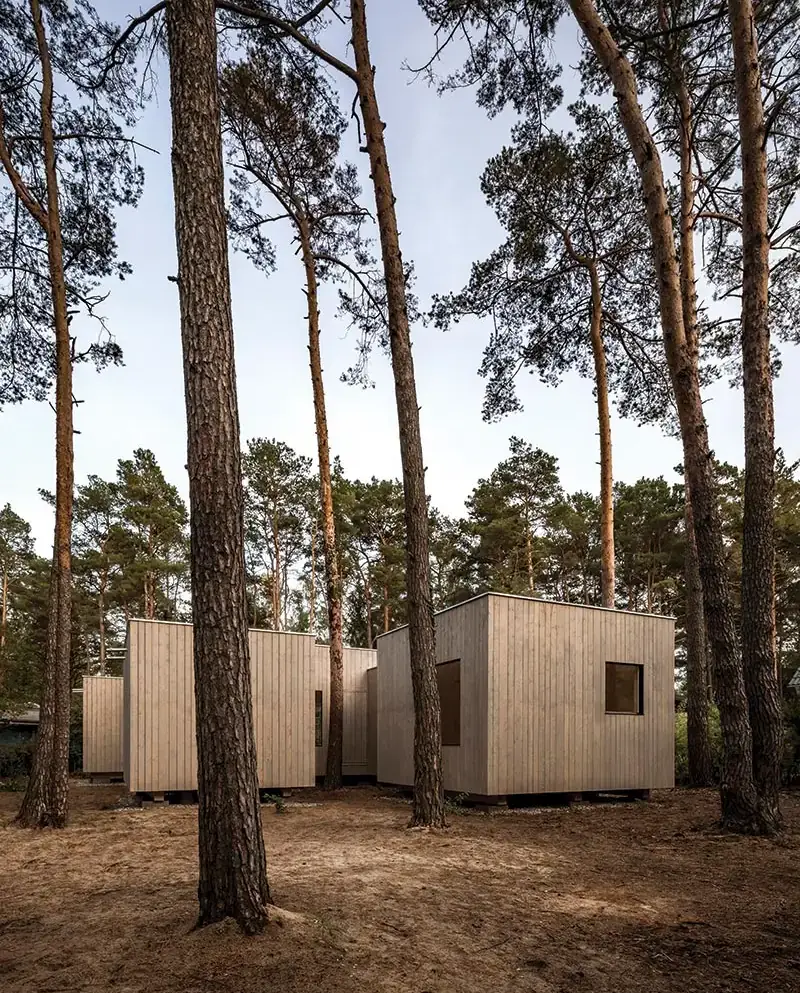 3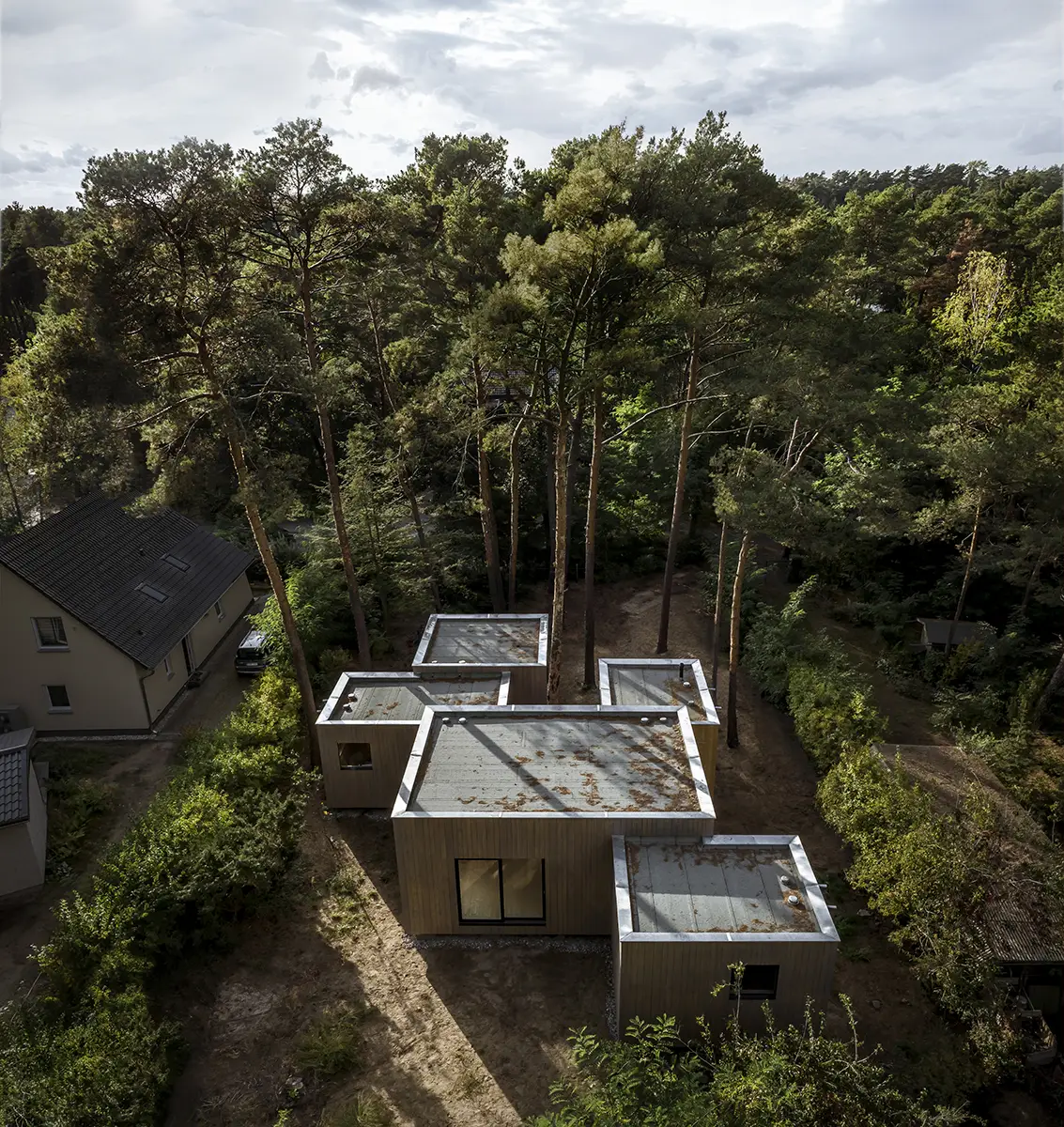 4
Haus Köris (3 - 5)
Hovering above the ground and nestled between tall, spindly pine trees, this single-family house is a series of interconnected volumes, each with its own domestic function. Photos © Cesar Bejar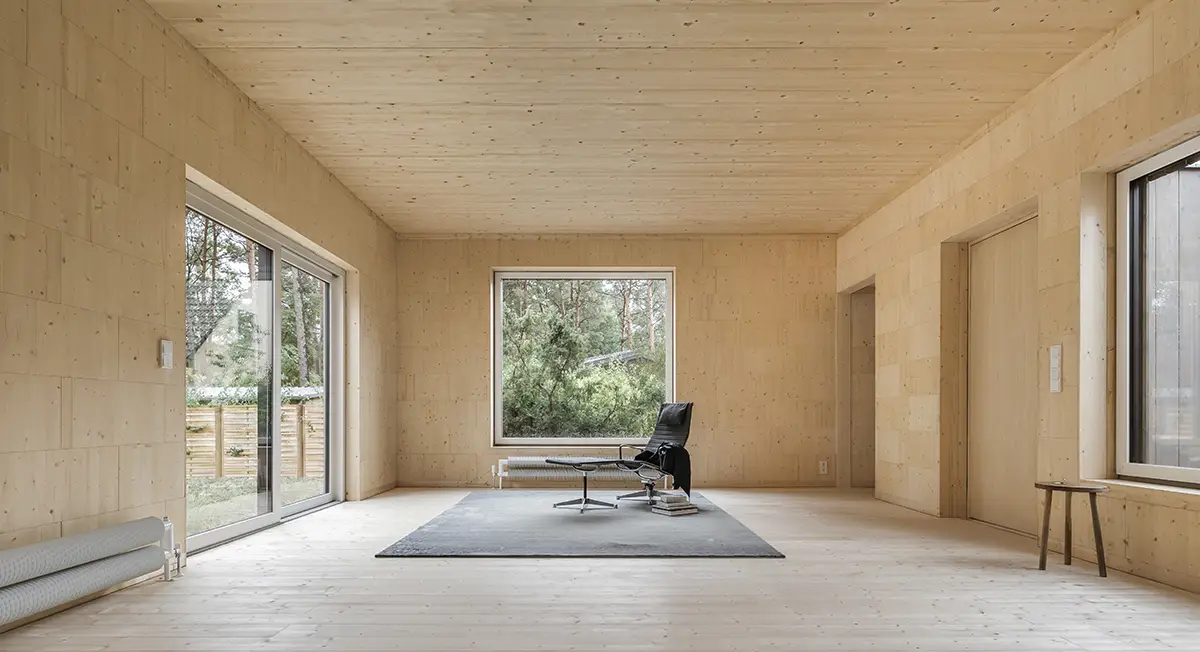 5
With private apartments (including the strikingly tropical Casa Verne in Mexico City) and commercial work (the uber-cool Odeeh fashion boutique in Berlin), momentum behind the practice continues to build, and they're looking forward to their first project in the United States, an artist collaboration on Apple's Cupertino campus, expected to open this summer. International in outlook, their partnership seems to draw strength from contrasting perspectives. "Coming from such absolutely different backgrounds—our minds work in different ways," says Zeller. "But it's very fluid. Spontaneous."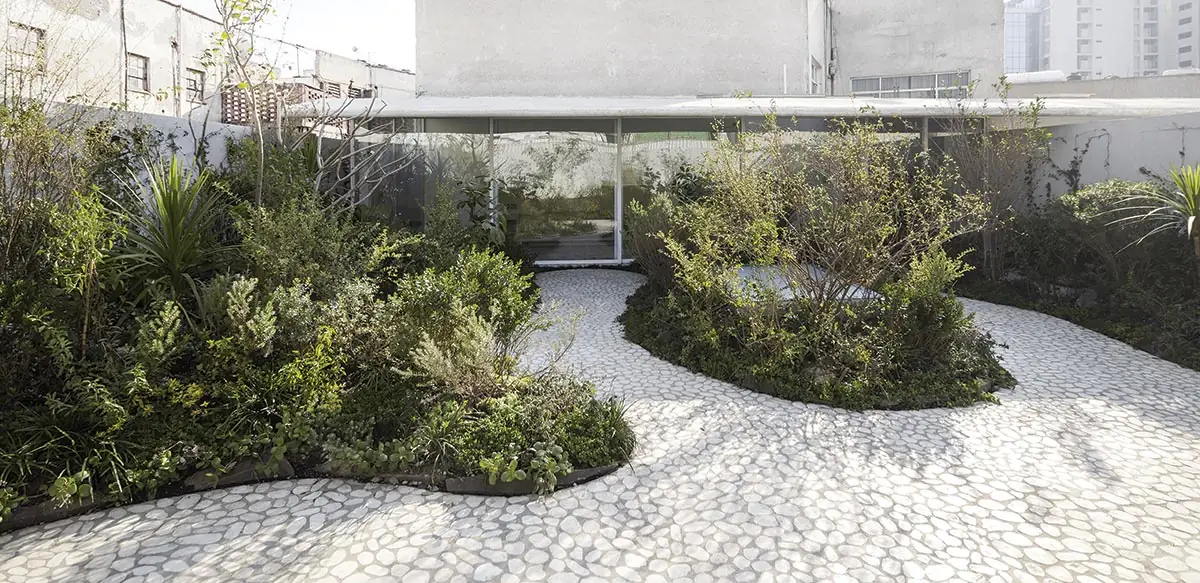 6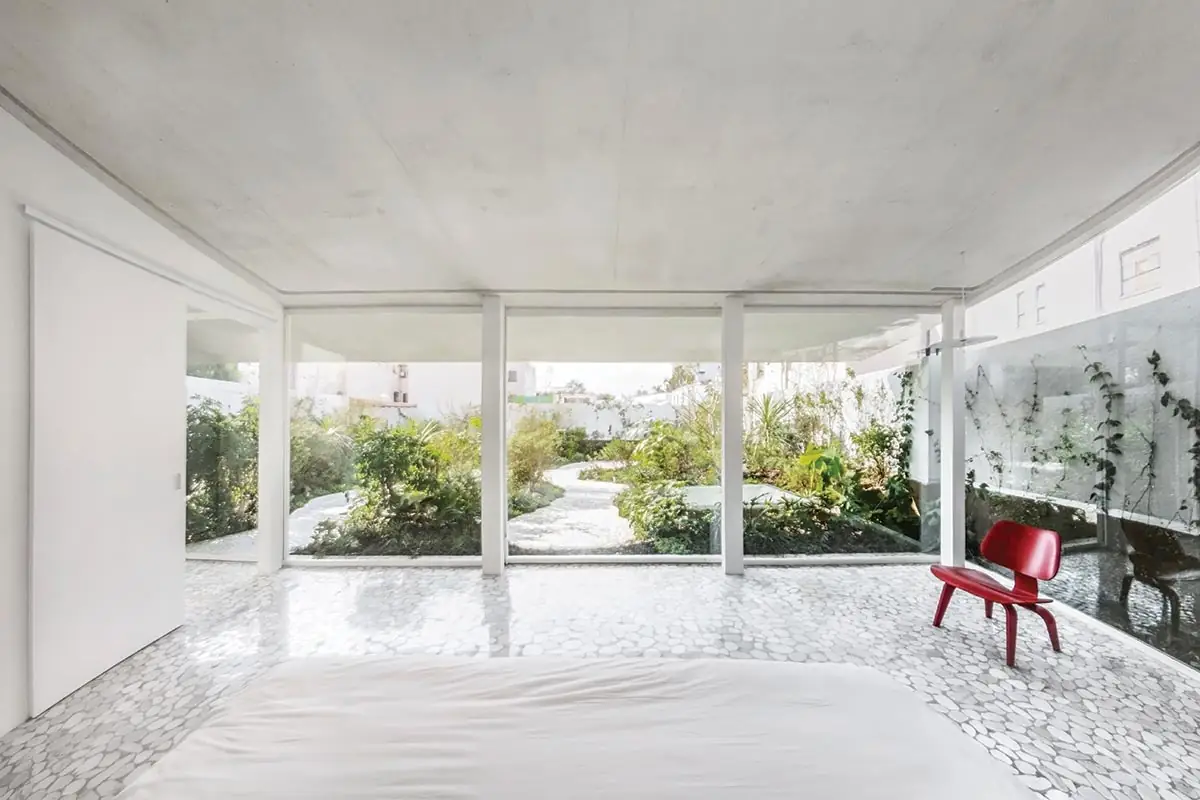 7
Casa Verne (6 - 8)
A verdant roof garden and bedroom top the three-story Casa Verne. Extensive glazing, minimal detailing, and white marble-pebble floors maintain a luminous interior. Photos © Omar Muñoz
8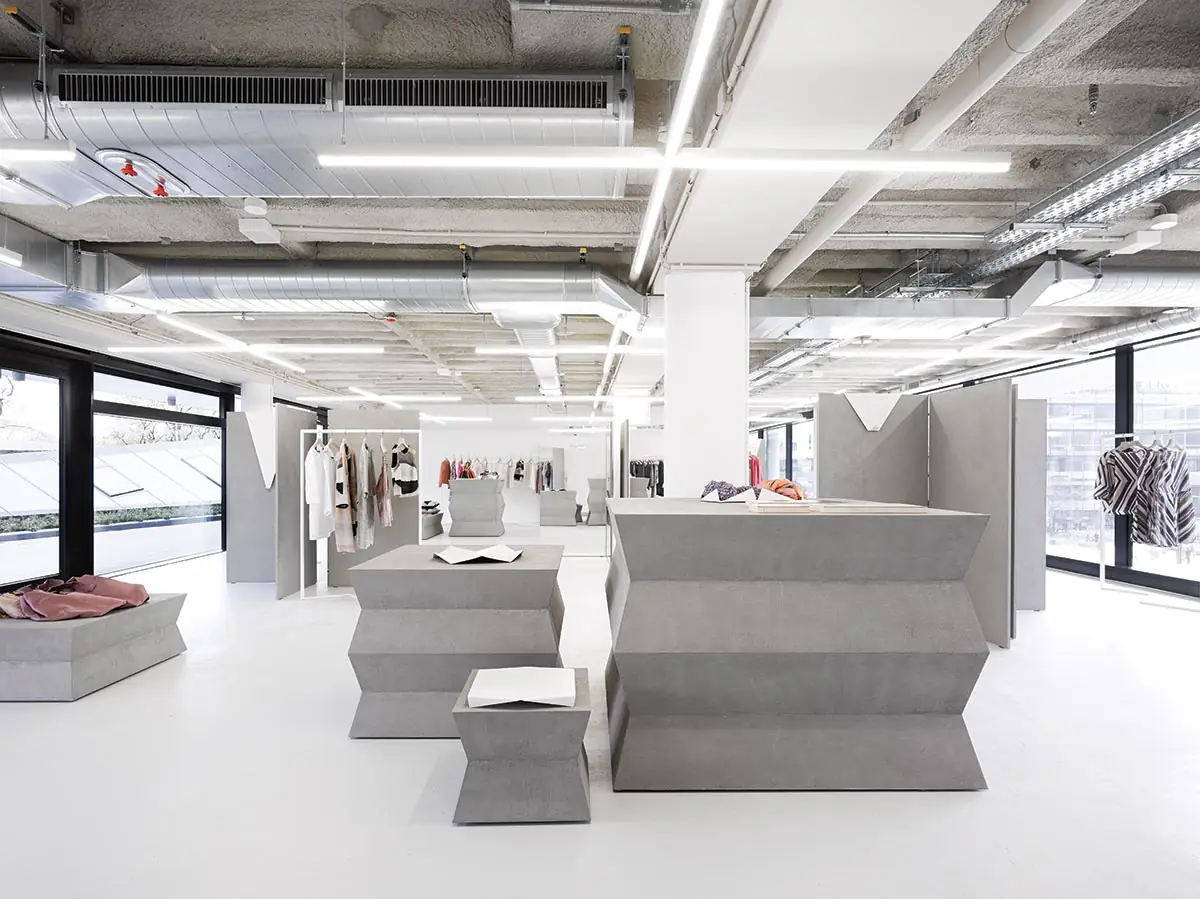 9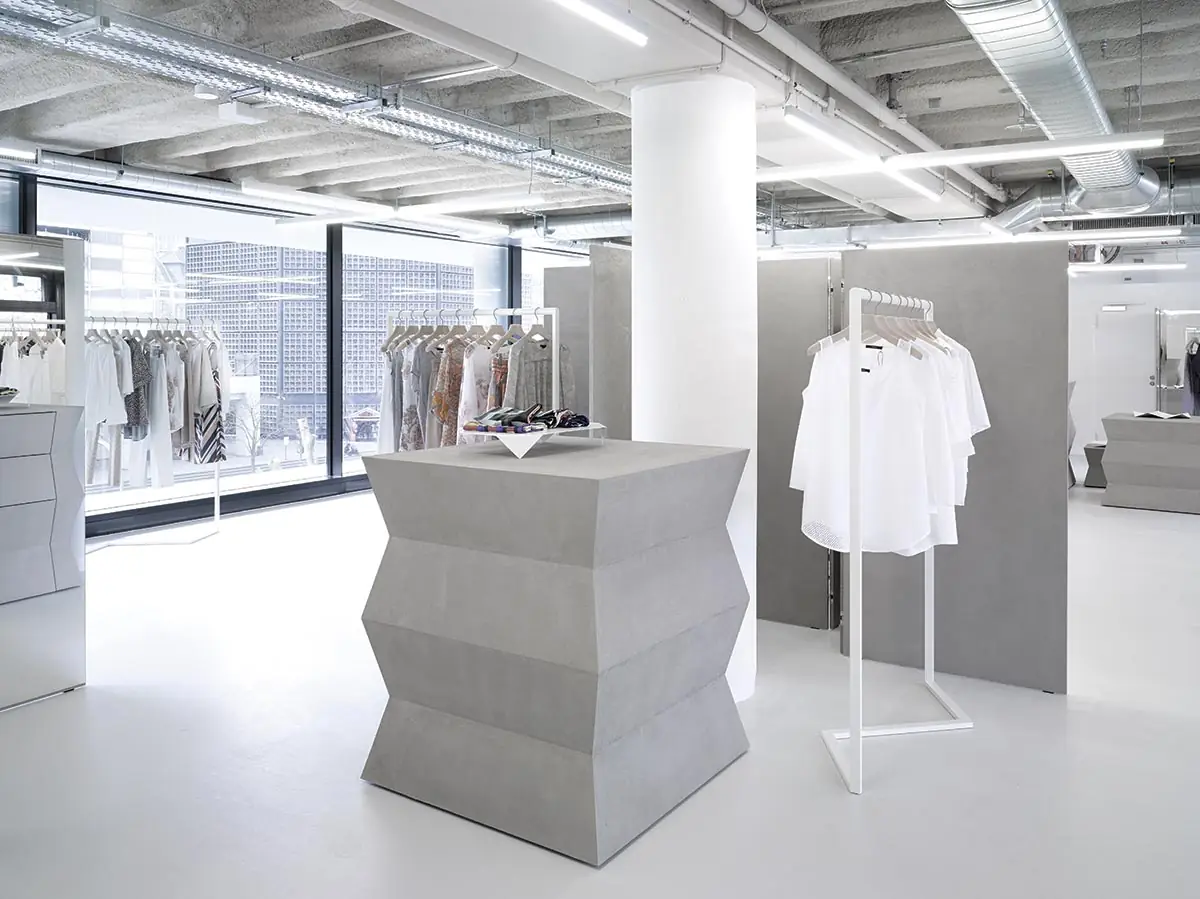 10
11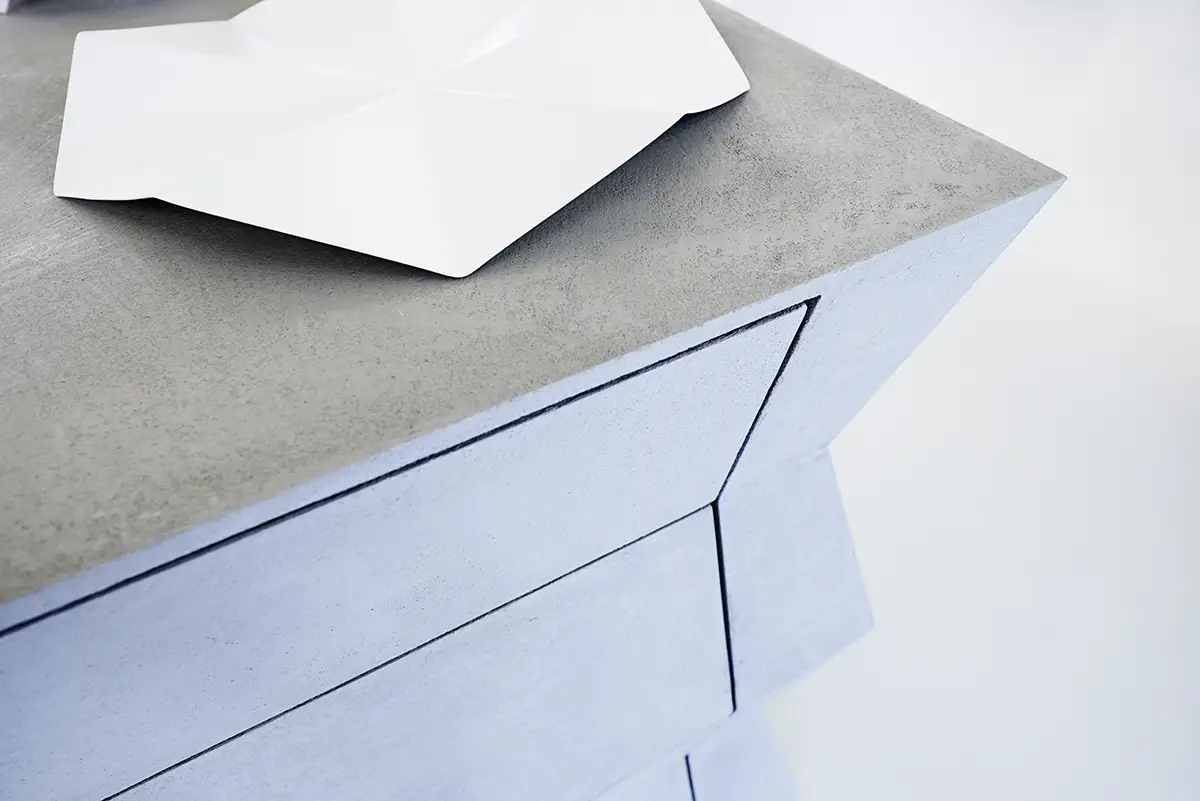 12
Odeeh Boutique: (9 - 12)
A modular system of raw cement-board screens and faceted plinths maximizes flexibility, allowing staff to curate new clothing collections. Delicate white metal objects—clothes racks, hooks, and trays—and mirrored walls add to the minimalist aesthetic of the store. Photos © Harry Weber
Christoph Zeller and Ingrid Moye. Photo © Andreas Gehrke
FOUNDED: 2013
DESIGN STAFF: 5–7
PRINCIPALS: Christoph Zeller, Ingrid Moye
EDUCATION:
Zeller: Universität der Künste Berlin, Dipl.Arch., M.Arch., 2002
Moye: Universidad Anáhuac México, Dipl.Arch., 2007
WORK HISTORY:
Zeller: Herzog & de Meuron, 2004–12; SANAA, 2001; J. Mayer H. Architects, Berlin, 1999–2000
Moye: Herzog & de Meuron, 2009–12; SANAA, 2007–09
KEY COMPLETED PROJECTS: La Ribera, 2022, Mexico City, Mexico; House Köris, 2020, Brandenburg, Germany; Casa Hilo, 2019, Apan, Mexico; Hollow, 2016, Royal Fort Gardens, Bristol, UK; Casa Verne, 2017, Mexico City, Mexico; Sandra Weil Concept Flagship Store, 2014, Mexico City, Mexico; ODEEH Concept Flagship Store, 2014, Berlin, Germany
KEY CURRENT PROJECTS: Mirage, Cupertino, CA; House Oaxaca, Puerto Escondido, Mexico; Hotel Sevilla, Mérida, Mexico; House Thielalle, Martin Luther Memorial (both in Berlin, Germany); Anfal Memorial, Rizgary, Iraq